Einstein and the Poet - In Search of the Cosmic Man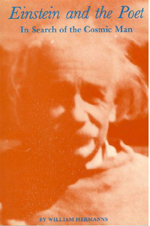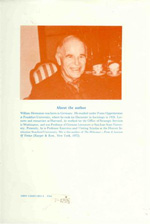 Original Publication: Branden Press, 1983
Hardcover books are available to purchase - email us.
At Princeton with Albert Einstein after the 4th Conversation in 1954, Video by William Miller
(no audio available)
Video Clip be seen on Youtube at https://youtu.be/RaMs4s2vYQQ

Description from the inside jacket :
Centering on the close 34-year relationship with Einstein, the author begins his absorbing book by describing his vow on the battlefield of Verdun: "God, save me, and I will serve you as long as I live." A member of the League for Human Rights, the Alexander von Humboldt International Club, and other peace organizations, Professor Hermanns became a disciple of Albert Einstein. His four conversations with that genius is nothing less than a pilgrimage to the altar of world peace.

Professor Hermanns had his first conversation in 1930 in the very flat of Einstein. An educational playwright for the German Radio, he had hoped to use the radio to defend the democratic ideals of the Weimar Republic, and to show the German people that a genius is made from within and not through shouts of "HEIL" from the masses. While the two conversed, Nazi Youth marched to the slogan: "When Jewish blood spurts from our knives, then it will be twice as good." Outside Einstein's door, a man threatened to set off a bomb.

In their second conversation at Princeton in 1943, they discussed the nature and existence of matter, encounters with Max Liebermann, Gerhart Hauptmann, Magnus Hirschfeld and, of special interest, the conspiracy of the Empress in the Crown Prince Palace. The author shares his experience in the demise of the Rathenau Society and freedom in the first years of the Nazi terror in Germany, and Einstein explains his change from an absolute to a conditional pacifist.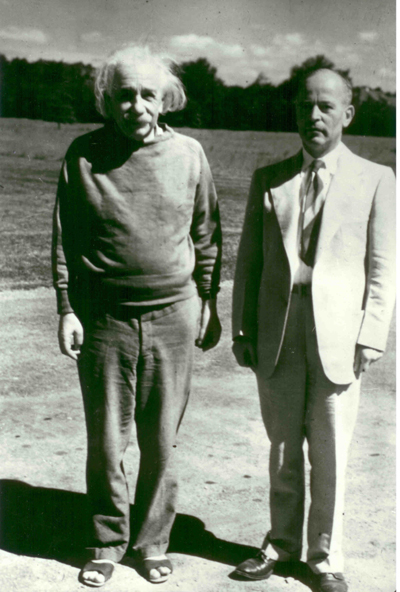 Albert Einstein and William Hermanns, Princeton, 1943

In the third conversation in 1948, they realized the need for the founding of a cosmic religion; they also discussed Jesus, Elsa Brandström, Planck, Haber, Nernst and the Nazis, the Church and anti-Semitism. In the fourth, shortly before Einstein's death, they talked about Bruening, Breitscheid and Empress Hermina. The author also records the advice given by Einstein to a Harvard student bent on suicide and Einstein's dream of a World Youth Parliament to avert a third world war in which only a quarter of humanity would survive.

In this exceptional book, which contains documents published for the first time, the reader quickly understands that Professor Hermanns' mission is to accomplish Einstein's goal to found a cosmic religion based on one's innate conscience in order to prevent an apocalyptic third world war.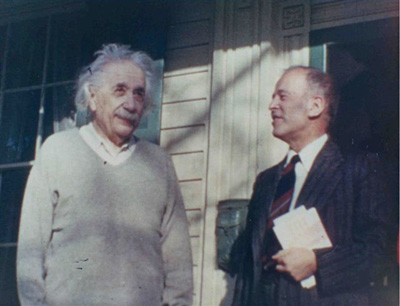 Albert Einstein and William Hermanns, Princeton, 1954, after the Fourth Conversation, only months before Einstein's death on April 18, 1955 Photo by William Miller
Many people think that the progress of the human race is based on experiences of an empirical, critical nature, but I say that true knowledge is to be had only through a philosophy of deduction. For it is intuition that improves the world, not just following the trodden path of thought. Intuition makes us look at unrelated facts and then think about them until they can all be brought under one law. To look for related facts means holding onto what one has instead of searching for new facts. Intuition is the father of new knowledge, while empiricism is nothing but an accumulation of old knowledge. Intuition, not intellect, is the 'open sesame' of yourself." Albert Einstein, in Einstein and the Poet – In Search of the Cosmic Man by William Hermanns (Branden Press, 1983, p. 16)

Einstein
"When dead, then let my worthless body burn,
my ashes throw into the silent air;
on earth no hole shall give my name a place."
We rowed through darkness with your precious urn.
There was a splash, a bubble sobbed somewhere.
Yet, friend, creation has preserved your trace.
The trace leads up; your pillow is star.
Your dream? You see a golden ladder rise
and youths ascending white and black and brown,
rung after rung, reach out and touch afar
a light, heart-formed, that gleams into the skies.
The pilgrimage is endless up and down,
and they are changed. They radiate and glow.
Filled with your conscience and your intuition,
they act now with dimensions infinite.
Their will and purpose crush what's base and low and stop the atom from its hell-bound mission.
They carry in their heart a holy writ:
We are cosmic substance, co- creators, we,
of all that was and is and what shall be.
And these, my friend, were your last words to me:
"Have always holy curiosity."
William Hermanns
[P015]
[
P015, on p.147 of Einstein and the Poet - In Search of the Cosmic Man by William Hermanns (1983, Branden)]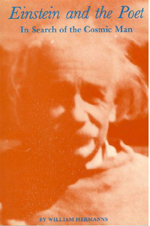 Hardcover books are available to purchase - email us.