Childhood Upbringing
William (Wilhelm) Hermanns was born on July 23, 1895 to Michael and Bertha Hermanns (born Wolff) in Koblenz in Germany as their third child after his brother Hans and his sister Gretel. The earliest photo is taken around his first birthday in 1896, in which he sits between Hans and Gretel.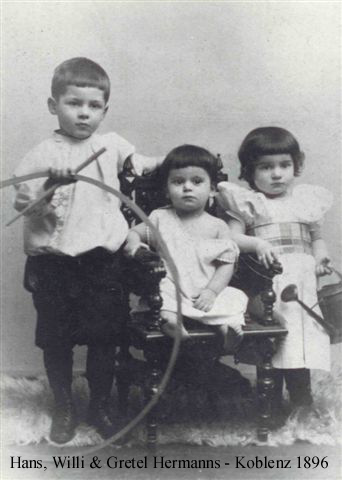 Koblenz sits at the meeting of the Mosel and Rhine Rivers in the present state of Rheinland-Pfalz, where it is the 3rd largest city on the Rhine. It was celebrated by the Germans as the German Corner (Deutsches Eck) ever since Kaiser Wilhelm I drove the French out of the Rhineland and erected a massive fortress Ehrenbreitstein with the intention to prevent the French from ever conquering the Rhineland again. A large statue of the Kaiser on a horse being led by Germania, a feminine representation of Germany, sits atop a large stone pedestal at the Deutsches Eck, after being resurrected in 1993 from its toppling after World War II by the Allied Forces. The stategic geography of Koblenz fanned the fires of patriotism to keep Koblenz German while Willi grew up the first ten years of his life.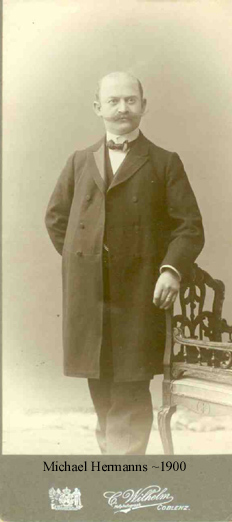 Willi's father, Michael Hermanns was a businessman who owned a shop on an old downtown street called Entenphul that sold hats and specialized at the turn of the century in ostrich feathers adorning the hats. The family was Jewish and most likely traced its roots back to Spain where the ancestors fled the forced conversion of Jews and Muslims ordered by Queen Isabella and King Ferdinand. The family name Hermanns most likely is from "hermanos". Their exile led them to Holland and then up the Rhine to settle in Germany along the Rhine. Michael also prided himself as a Latin schlolar.
Willi's mother, Bertha, grew up in Bochum, dabbled in poetry and would read to the children. Little Willi, as he was called as a child, loved to have her read to him. He attributes his poetical talent to her.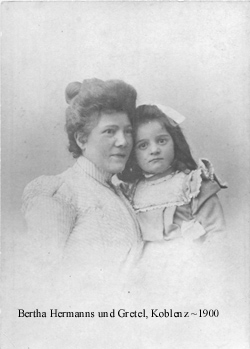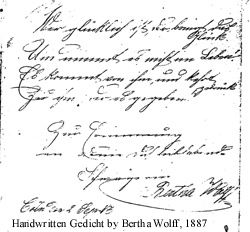 Little Willi was the baby of the Hermanns family until he was six years old when his sister Hildegard was born. He had a pretty sheltered childhood until the age of 7, when in 1902 his mother, who undertook annual treatments for gallbladder distress in a Karlsbad spa, heeded the advice of the daughter of the composer Meyerbeer from Paris, who convinced her to try a radical treatment, but she died within twenty-four hours. One day she said goodbye for what was thought to be a short visit to a practitioner in a spa, and the next day she was dead. The shock affected Little Willi his whole life, and he would refer to his mother as an ideal of motherly love and to whom he owed his poetical sensitivities. Later as a young man he composed a poem about his relationship to her.
Mutter
Wenn ich auf unserer Schwelle steh'
und nicht Dein sanftes Lächeln seh',
möcht' ich verzagen.
In tiefer Erde liegst Du schon,
ich trage weiter hier die Fron.
Selbst nicht im Traume kommst Du her
und sprichst: "Mein Kind, ist es so schwer?
Ich helf' Dir tragen."
Ich fühl' Dich nicht, ich spür Dich nicht:
Hast Du da oben auch kein Licht?
William Hermanns
[G003]
~~~~~~~~
Mother
No more the threshold has a smile
and speaks, "Come sup, come rest awhile,
my son, don't tarry."
You moved nowhere — but moved — how wrong!
You even took my tears along.
Can you not in a dream appear
to whisper, "Look, my child, I'm here.
Your load I'll carry."
I feel you not — no touch of love.
Mother, have you no light above?
William Hermanns
[P097 - translated from G003 by author]
~~~~~~~~
Michael was now a single father to four children, Hans, Gretel, Willi and Hildegard.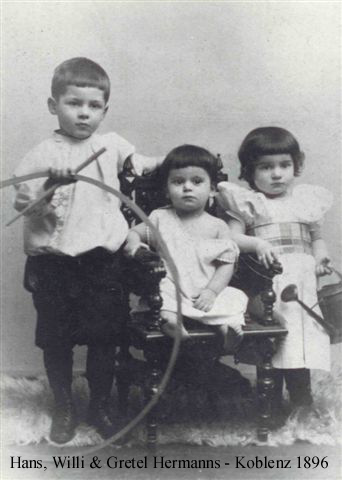 Willi's father Michael married again in 1904 to Nanny Leffmann of Freckenhorst, Westfallia, but there was a lack of rapport between the new stepmother and the children. His stepmother gave birth to Elizabeth in January 1905, but a week later his father suddenly was stricken with heart and kidney failure. Being quite scholarly in Latin, his last meeting with his son Willi was to scold him for getting a failing grade in Latin. This prooved to be a lasting impression on Little Willi, who later would excel in academia.
After Willi's father died, the stepmother requested that the 4 children of Michael's first wife and Willi's mother Bertha be distributed among relatives for care, while she would care for her daughter Elizabeth. Willi was sent to his father's sister Veronika Hermanns in Neuwerk, a village outside of Mönchengladbach in the northern state of North Rheinland Westfallen.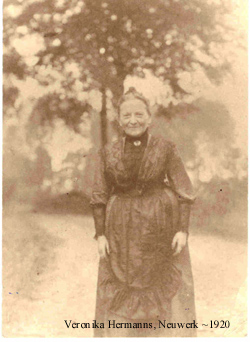 Aunt Veronika became Willi's second mother on her little farm where she raised goats, cows and chickens as he became a teenager grew into a young man, overseeing his studies in the college prep school (Gymnasium) of Mönchengladbach. Willi had fond memories of his Tante Veronika taking him to accompany her when she took soup to the sick and poor, often meeting with the Franciscan nuns caring for the downtrodden. The Franciscan connection would later play a role in his life. He felt that Tante Veronika was a good mentor for living an ethical life, and would recite proverbs or prayers he learned from her. The Gymnasium would prepare him to be a patriotic scholarly German. Both influences would vie for his soul when he entered the army.